We at OBS saw the XML spider approaching twenty years ago, and talked about it at the Summer Publishing Institute at the University of Virginia in 1997. Today, Enterprise Content Management systems are a multi-billion-dollar industry that's growing at 15% per year.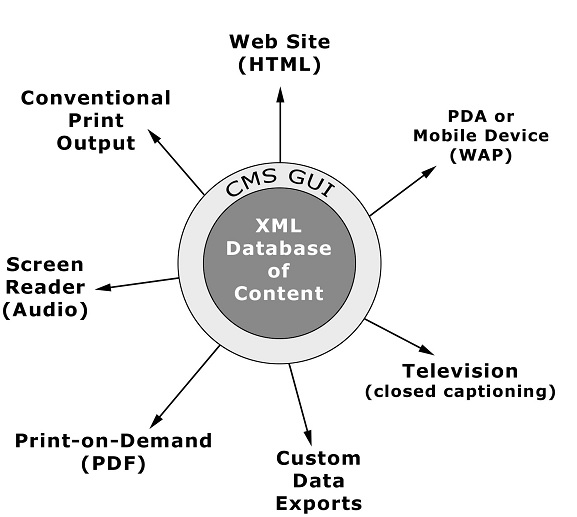 Figure: "The XML Spider": With a database of content tagged in XML, a publisher can code once and use many times, opening up new revenue streams through re-purposing their content. Please note: this is an archival document showing XML-centric workflow that was created by Laura Fillmore in 1997 as part of her presentations at the University of Virginia Summer Publishing Institute. It's in need of updating!
A major instance of just such an update came recently with the Copyright Clearance Center's acquisition of Ixxus, a publishing solutions provider. Together, the CCC and Ixxus are creating a revolutionary content management system that enables publishers to create a live hive of inter-operable content, chunked to the least common denominator. This "single source of truth" serves to centralize and standardize the publishing process, from file management to workflows to distribution and beyond. Pedagogical interface (PI), here we come!