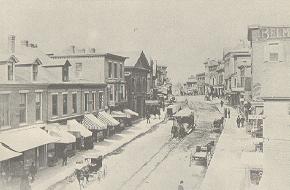 East on Main Street from below the Belmont Hotel at number 151, some time between the horsecars' arrival in 1885 and their surrender to the electrics in 1890.
Upper Main Street
...at Fishermen's Corner is where Salem's steam pumper, rushed down on a flatcar, helped stop the great fire of the bitter night of February 18, 1864—that and blowing up Captain Fred Low's mansion at the east head of Duncan Street. The firemen and soldiers from the Eastern Point fort saved the brick Customs House across from it, later the site of Woolworth's (which, alas, left town in 1971) and now of the Senior Center, but that was about all...Herculean firefighting, bucket brigades, hand pumpers (the water froze in the pumps and they poured in liquor from the dramshops for antifreeze), explosives, the Salem steamer, and perhaps more luck than anything saved the rest of the town. At dawn a hundred and three buildings lay in smoking ruins, thirty-eight families were homeless and fifteen acres of real estate were wiped out.
In the course of rebuilding, Front, Spring, Union Hill, and Jackson streets were integrated as Main Street. Rogers Street was created (named for merchant/promoter George H. Rogers) between Main and the new waterfront from Porter Street, where the fire started, to Water Street, where it stopped.
The West End
This second great fire finished the job begun by the first one of 1830. That blaze ignited in the early morning of September 16...It moved along Front (Main) Street through the tinderlike wooden structures on the water side and down to the wharves as far as Porter Street, meanwhile jumping across at Short Street and consuming several buildings before it was halted by blasting.
Seventeen houses and forty-three stores and other places were destroyed—more than half of the business district and practically the whole of the West End, most of it uninsured. The fishermen were at sea, and the local militia was off on drill. Before help arrived from nearby towns, the volunteers were reinforced by three hundred Gloucester women who "with uncommon spirit" evacuated goods and furniture and kept a bucket brigade going for nearly eight straight hours—and by a party of Penobscot Indians who happened to be in town and who "exerted themselves with great bravery."
These two fires, less than thirty-four years apart, leveled most of the business and commercial heart of Gloucester, including many fine homes...
The most striking architectural result of the 1830 fire was the cooperative replacement of the classic colonial frame homes, whose gardens looked out on the harbor, with brick structures in the Federalist style forming at least three continuous street fronts. Two of these on the south side of Main Street, along with a couple on the north side, remain today.